Oh, friends. Thru-hiking can really remind you of just how simple life can be. Food and water, and sleep, and good company and a purpose for every day.
In Agua Dulce, I stayed at Hiker Heaven, the home of the wonderful Saufleys (and a tent city of weary hikers!). I had a lovely hot shower at last, jumped into some awesome loaner clothes (baggy mom jeans for the win), and put my filthy clothes in the laundry lineup. I ate twice at Home Made cafe, the most perfect diner with giant plates of eggs and potatoes, an excellent corned beef hash, and delicious strawberry crepes.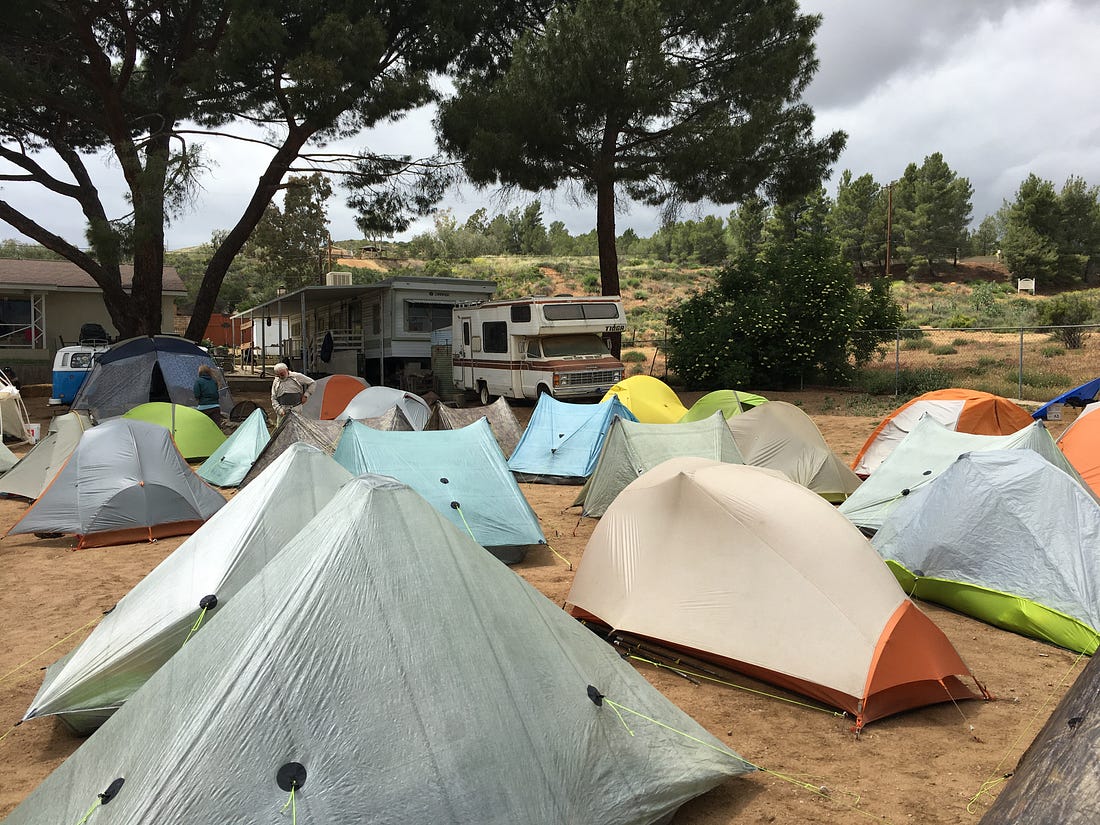 (Yes, I happily ate every last bit of the above in one sitting.)
We (I've been hiking with the speedy duo Pace and Triple A) left Agua Dulce around 8am after Home Made breakfast, setting out to hike the 24 miles to the next trail angel in one push. I was happily trucking along until about the 8 mile mark when my feet began to hurt. By mile 14 they really hurt. Hard to know why exactly, but I think likely it was just dead shoes. At this point, my friends were far ahead out of sight and I was attempting to make forward progress without putting any weight on my feet.
I finally made it to the 24 mile mark, and stared down the 2 mile road walk between me and dinner. I put on a hopeful smile and stuck out my thumb, but no luck. Few cars were headed my way and the ones that were flew by without slowing. I started off, 2 more miles was stumbleable.
Limping along the road edge, I passed a gated compound where a woman was standing in the yard with a large German shepherd. "You okay?," she yelled out across the road. I managed a smile, "Yes, just one more mile." She said something else I couldn't hear over the traffic and I gave another smile and a little wave and stumbled on. A few minutes later, a white van pulled up behind me. It was her! She'd gotten into her car and left her home at 7pm to pick me up. Ellie of Green Valley, you saved me that day, delivering me to Casa de Luna (the Anderson's) in time for dinner. Ellie told me that I looked like her daughter and that she'd lived in Green Valley for 25 years and liked it because it was quiet and the people were kind.
On arrival I was greeted by a chorus of "Kanga!" from my hiker friends, devoured my taco salad, danced for my PCT Class of 2019 bandana, and was given a warm and welcoming hug from true trail angel Terrie Anderson.
These simple things somehow made the teeth gritting last 10 miles just melt away. New shoes await at Hikertown just 40 miles north. Next up, the aqueduct!